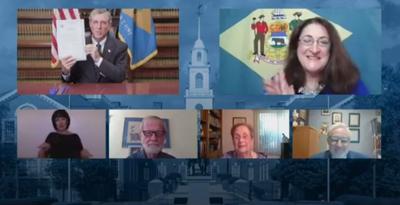 Holocaust and genocide education will become part of the curriculum for Delaware's middle and high school students under a new law signed by Governor John Carney Thursday night.
House Bill 318 requires students in grades 6-12 to receive lessons that will be partially provided by the Halina Wind Preston Holocaust Education Committee.
Thursday's bill signing featured Ann Jaffe, a Holocaust survivor.
"I am the last generation of first-hand witnesses, and I am 89-years-old. I am glad to know that when I will be gone, the schools will continue our work."
Before signing the legislation, Carney said it is important to look back at key moments in history, to avoid repeating negative ones.
"The best way to prevent genocide like the Holocaust is to hear first-hand accounts of what actually happened, and the hatred behind that, and the people who made it happen."
Jaffe has spent decades speaking to schools and organizations about her experiences, but said there's still a lot that needs to be passed on to figure generations.
"What I have learned a lot from our young people is that many of them know very little about state-sponsored, calculated, mass-killing of millions of people. Six million of them were Jews.
"The importance of teaching the Holocaust and about genocide in Delaware schools is great. How can we expect our children to remember and learn from history they did not know?"
YouTube